Every proud homeowner knows that visitors, passers-by and even prospective buyers will judge a book by its cover when it comes to the appearance of a property from the outside.
From the style of the property to the area that surrounds it, the overall appearance of a house from the street, commonly referred to as kerb appeal, can play a part in determining its worth.
Whether you're planning to sell your property, or simply want to show your home off in its best light, kerb appeal is a good way to go. In fact, improving kerb appeal could boost the value of your home by as much as £55,000!
When most people think of kerb appeal improvements, they think of what can be done to the house itself, such as:
Painting rendering
Repointing bricks
A new front door
But if you're more green-fingered than DIY savvy, simple garden maintenance can also do wonders for the aspect of your home. 
In this blog post, we've teamed up with garden machinery suppliers, Lawnmowers Direct, to explain some of the ways you can increase kerb appeal through garden maintenance.
Taking care of your lawn
Most properties have a lawned area that surrounds them, and this can often be seen from the front of the property. 
Lawn care isn't easy—knowing the best way to mow, how to maintain soil PH, and keeping grass perfectly green in particularly wet and dry spells all takes careful maintenance, but it can completely transform the appearance of your property.
A well cared for, healthy grass lawn creates a beautiful surround to your property, instantly improves its appearance and shows you put effort into the finish of your home—inside and out.
Have a tidy up
A simple tip that can make a big difference, simply tidying your outdoor space can immediately neaten things up and improve your kerb appeal.
Quick and easy garden tidying:
Cutting the grass
Picking up debris, such as leaves
Flatten molehills
Remove litter
Clean your patio
Remove weeds
Trim your hedges
From picking up leaves, twigs and litter that have found their way onto your lawn to cleaning up your patio slabs with a jet wash, having a general tidy is a task which you can spend an hour or so on per week, but can make for a great transformation!
Get your garden redesigned
If you're willing to go all in with your efforts to boost kerb appeal, a garden redesign might be just what you're after.
A new garden design can:
Make your garden look bigger
Modernise your space
Make your garden more functional
Improve the appearance of your home
With the potential to maximise the use of the space you have, create unique and beautiful areas you, your family and friends can admire and enjoy and generally take your outdoor space from 0 to 100, a new garden design can create an unrecognisable space that adds value to your property in more ways than one.
Although many people think that a professionally designed garden will result in more maintenance long term, this often isn't the case, with many designers providing bespoke management guides to help you take care of your garden and continue to enjoy the space that has been created. With the potential to create simple, easy to care for spaces which still have 'wow' factor, getting input from a design specialist could be the difference between a good kerb appeal and a great one.
Replace your patio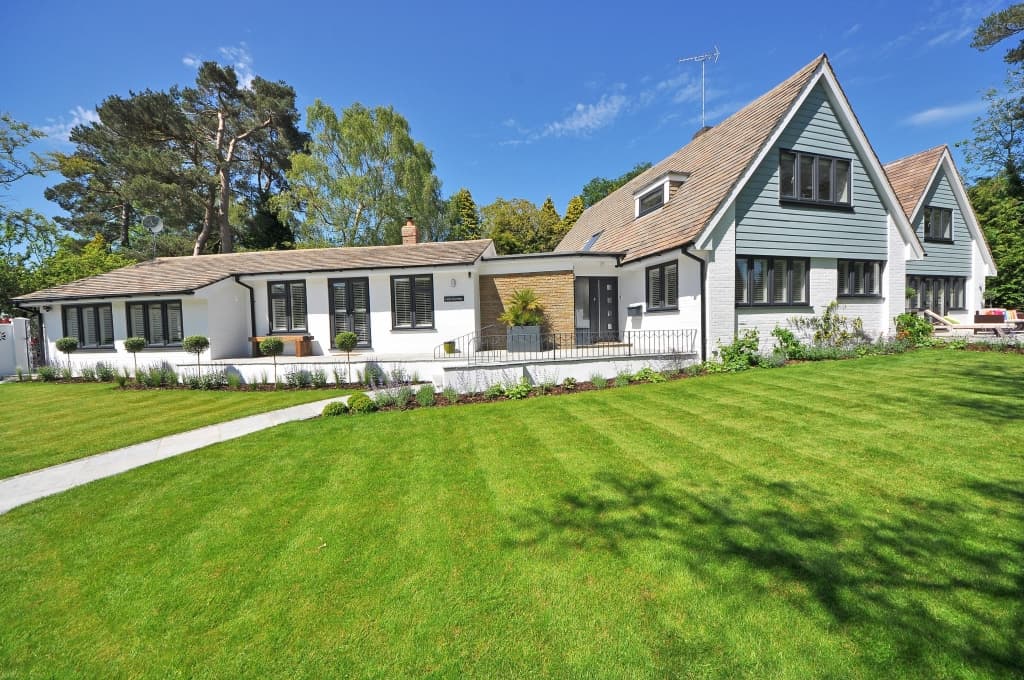 Whether you have a large slabbed social area or a walkway which leads up to your front door, you've probably got a patio in one form or another.
Although cleaning the slabs with a pressure washer can give them a new lease of life, in some cases, replacement is necessary. Whether your patio is past the point of cleaning, slabs are broken, or they could be replaced to better match your home, taking up your old slabs and replacing them with new ones can add a new style to your home, and give it an instant freshen up that is pleasing to the eye.
Update your fencing
Garden fencing provides security and privacy in your garden, but maintenance of fencing is often something which gets overlooked, and a run-down, wonky and broken fence can instantly affect the appearance of your garden, making it look worse than it really is. Adding a new fence to the garden of your property can give it an instant facelift. However, installing a new fence can be costly and time consuming—something those improving kerb appeal for sale are keen to avoid.
But you don't have to replace your fencing to give it a well-needed update—caring for your existing fence can have a positive impact too.
Taking extra care of your fence not only extends its lifespan, it can also improve the appearance of your garden. From repairing any breakages and reinforcing weakened areas to giving your fence a fresh lick of paint or wood treatment each year to keep it in prime condition, a few hours spent updating your fencing can put precious £'s on your house price.Whether you're planning to keep your home for years to come or are looking to put it on the market pronto, attending to kerb appeal is time well spent. Following these garden maintenance tips can help boost your kerb appeal without needing to touch your property, but they can have a dramatic effect which takes your property from average to amazing.
BIO: This blog was contributed by Lawnmowers Direct, a leading online supplier of garden equipment.